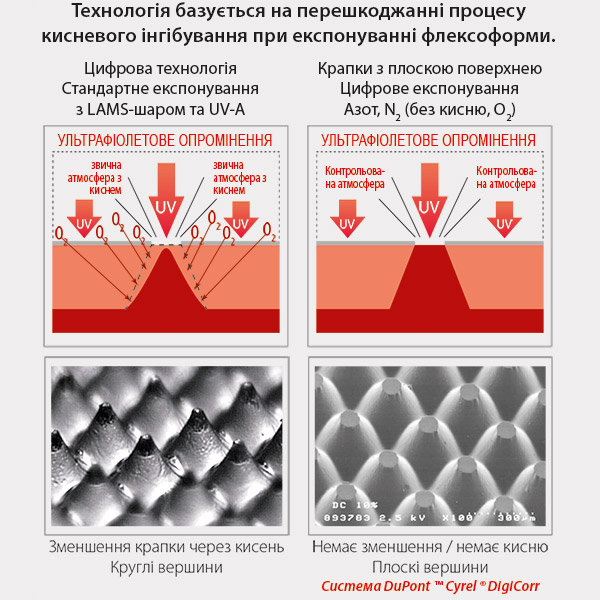 New quality standard in Flexo
The technology is based on obstructing the process of oxygen inhibition during the exposure of flexo forms.
The Flat Top Dots technology enables higher level of particularization on the plate surface. It results in the even layering of paint and allows much greater capacity to reproduce small elements of relief and receive high resolution of the surface of a ready-made form.
Such a technology facilitates the prepress work, leading to a much better quality of print. There is also the possibility of saving paint when printing flexible packaging.
Benefits:
1:1 image reproduction;
lesser unclenching;
proper color distribution;
reproduction of small design elements;
exceptionally high resolution;
smooth transition of half tones into white without raster breaks for light tones typical of flexo (HD Flexo 2);
contrast reproduction of slim tone transition;
full tone range with extended color range;
strong dots in lights;
infallible printing with rigid margins;
increased plates durability for large number of copies;
stable and predictable printing;
fits all digital plates.
Major exposure of flexo forms takes place in the atmospheric camera equipped with atmosphere control system.
DuPont™ Cyrel® DigiCorr
On the forms lit up in the atmosphere created virtually of pure nitrogen (instead of 78% nitrogen to 21% oxygen proportion typical of the air we breathe), we receive 1:1 image reproduction (file-mask-ready-made form). Flat Top Dots formed under such conditions ideally fit to minimize stripes effect (washboard effect), inherent in printing on corrugated cardboard, and the quality of print considerably increases.
DuPont™ Cyrel® DigiFlow
Adding a little bit of oxygen into the atmosphere of pure nitrogen (oxygen content – 1,3%), not only is 1:1 image reproduction guaranteed, but also the benefits connected with the algorithms of chaser dies raster, such as HD Flexo Microcell, are maximized, creating hybrid dots (with flat tops) and ensuring high optic density of chaser dies in the process of printing. This technology considerably increases the quality of printing flexible packaging, as well as labels and patches.