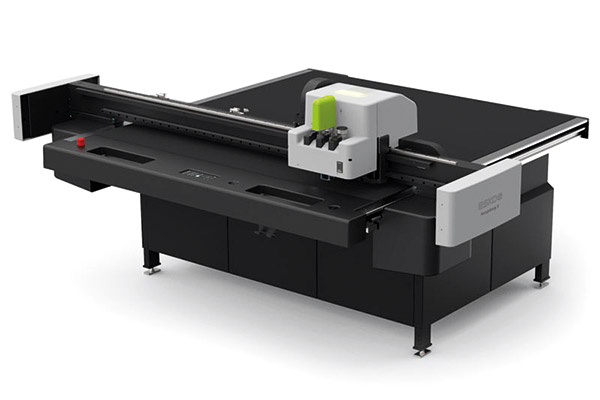 Modern complex of cutting flexo forms
VL series Esko Kongsberg from the leader in the field, ultramodern industrial multifunctional plotter is meant for increasing automatization and efficiency of production.
Automatic identification of the bar code of the cutting instrument in the course of the working process allows eliminating the mistakes of the operator. Esko Kongsberg VL industrial cutting plotter built on the basis of a solid metal construction with a large working surface that guarantees more dynamic stability of positioning and preciseness of working processes. Esko Vl is equipped with functional software with intuitively understandable system of management. Plotter is equipped with 'DynaGuard' safety system which protects the operator and people standing nearby from any possible danger coming from the equipment. Moveable parts of the plotter (traverse, platen) are surrounded by a raw of transducers with photo elements, which on activation instantly stop the equipment until the operator restarts it.
Technical characteristics:
working zone (width x length) – 1680 x 1270 mm;
maximum size of material (sheet) – 1750 x 1620 mm;
standard gap of the traverse – 50 mm (without the cutting pad);
maximum speed – 300 m/min;
maximum acceleration – 3 m/sq. sec;
management system software – Kongsberg Guide;
overall size of the plotter (including the working station) – 2400 x 1980 mm;
possible instruments – knife for cutting hard materials, scoring knife, knife for textile and poster, knives kit for plastics and box cardboard, sloping knife for 45 º cuts on a cardboard meant for bending; knife for rubber and carving stamps, knife for Press Cut notches (for patches), MicroCut knife for cutting varnished offset imprints.
The main objective of Kongsberg VL20 is to perform the precise cutting out of flexo cliché (including cutting onto shaped contour lines) in order to reduce the amount of handwork, as well as to cut down on technological waste and accidental mistakes because of the 'human factor'.